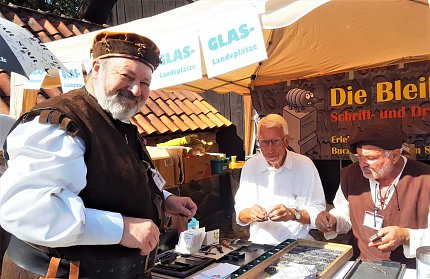 The Open Monument Day is the largest cultural event in Germany.
We would like to take advantage of this day and offer you, in addition to the exhibition GLASS PLASTICS AND GARDEN, a programme involving the listed buildings around the Ollershof.
Glass craft:
-> Sales stand with decorative glass elements by glass artist Inka Dybus.
-> Sales stand with glass bead jewellery and with active glass bead turning by Susanne Braun
-> Information stand and production of personalised "glass landing pads" by the Erlebniswerkstatt Buchdruck Museum Soltau.
Coffee table and culinary delights:
-> Coffee and cake offered in the listed Ollerhof by the association Frauentreff Munster e.V..
-> Fresh potato pancakes will be offered at the listed bakehouseby the Bürgerstiftung Munster.
Exhibition:
-> The Beekeepers' Association Munster e.V. shows its exhibition in the listed staircase storehouse.
Grinding demonstrations:
-> Grinding demonstrations and explanations by Jes Dietrich will take place in the historic and listed water mill.
Music:
The Chanty Choir Soltau and the Ebstorf Wind Orchestra (organised by the Kultur- und Heimatverein Munster e.V.) provide musical accompaniment to this event on the terrace of the Zur Wassermühle restaurant.