Simone Fezer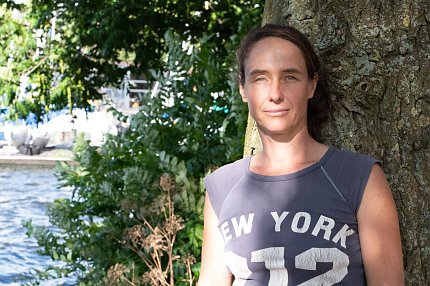 Germany
born in 1976 in Waiblingen/Germany
Arts and crafts training regarding wood, metal, etching, printing, painting and pottery; works of art made of glass, lead glazing, glass moulding, lamp glass and "pâte de verre?.
She participated in many exhibitions in the USA, Spain, Germany, the Czech Republic and Denmark. In 2003, she was awarded an Honorary Diploma in Düsseldorf/G (Jutta Cuny Franz Memorial Award) and in 2008 the 1st prize of the Exhibition GLASS SCULPTURE AND GARDEN in Munster with her work "Grounded/Geerdet?.
In 2009, she won a prize in the exhibition "Gardens of Glass in Frauenau?. In 2016 she awarded the 1st prize of the 10. intern. GLASS SCULPTURE AND GARDEN with the artwork "Fragile Worlds"2014 and 2015 project study of the Alexander Tutsek foundation, 2016 and 2018 nomination for the bloom!award, 2019 2nd Place art regio glas at the glassmuseum Immenhausen. Her works are represented in public and private collections and museums.
Overview
Growth / Wachstum II (2013)
Dimension (HxBxT) 100 x 60 x 90 cm
Contact
+49 173 9115007
Fuhrenkamp 4
29575 Altenmedingen
Participation in the exhibition:
2008, 2010, 2013, 2016, 2019, 2022